Please Note re adoptable cats & kittens
As we often receive numerous applications for each cat or kitten, we will only contact applicants who best suit the needs of the cat or kitten. For example, if it is stipulated that the cat needs another cat buddy at home and you do not have one, you may not receive a response. Finding the best home for our cat or kitten is our top priority. Applications are not first come, first served.
All cats and kittens adopted from Home at Last Rescue have received a full heath examination, a minimum of one vaccination,
treated for routine parasites, microchipped and spayed or neutered.
All future vet bills and vaccinations are the responsibility and at the expense of the adopter.
This symbol, below, indicates that the cat or kitten is part of a bonded pair who must be adopted together.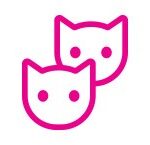 These are the cats currently available for adoption!