Why donations are so important
BALI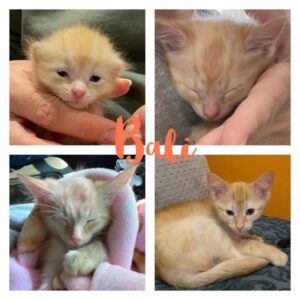 Poor little Bali has had a rough start to his short little life and he's only 13 weeks old.
Bali and his siblings were born to a mom that didn't bond with her kittens and really didn't want to be a mom. Bali and his sister were much smaller than the 2 other kittens and had to be tube fed every few hours. His little body wasn't well and he also needed several rounds of antibiotics to make him better. His foster mom thought she was through the worst of it and even though Bali is much smaller than kittens his age, he was doing so much better and starting to run and act like a kitten should. Earlier this week Bali was found stiff and unresponsive and his foster mom rushed him to the Emergency Hospital. He spent the day there and charmed all the staff. After a battery of tests and some fluids to make him feel better, he was well enough to go back home.
His test results are inconclusive so he's waiting to see an internal specialist. He is doing much better now but as you can imagine, the costs of the tests and being at the emergency hospital were over $1700 and he will continue to get the best care possible.
Veterinary expenses are some of the greatest expenditures in animal rescue. Your donation today helps Home at Last Rescue continue to fund the medical needs of animals in their care.
UPDATE July 26, 2021
Sadly, we had to say goodbye to Bali today. Bali's foster mom did everything she could for him since the day he was born, but unfortunately he just couldn't fight FIP. He passed knowing nothing but love.
Thank you to everyone who donated to his care. All funds will be used to pay his final vet bills and emergency visits. RIP little Bali
MOTHERLESS KITTENS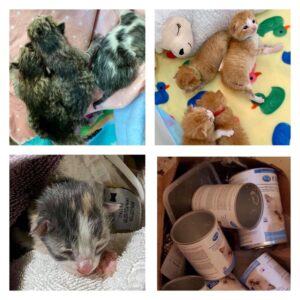 Aren't kittens just the cutest little things?
What most people don't know is how much love, care and expense goes into raising a kitten that's lost their mom or for whatever reason the moms can't care for them.
That's where the selfless work of bottle feeders comes into play. Taking on orphaned kittens is not for the faint of heart. These kittens are 100% reliant on their foster parents to do everything for them that their mom would have done. That means feeding every two hours (even through the night), stimulating their bowels and providing them with warmth, love and comfort.
Bottle feeders are truly the unsung heroes of rescue. They sacrifice their entire lives to ensure these chicklets have the best chance at life.
The cost of caring for these kittens is expensive as well. They may be little, but their special kitten formula is expensive. It costs around $125 to raise one kitten to 6 weeks when they can be weaned onto kitten canned food. That's just for one. Kitten season hasn't even started yet and we already have 53 kittens in our care. That's a lot of formula.
That's not the only expense to consider. There are all the heat pucks to keep them warm @ $35 each; the nipples @ $10 each; the bottles, the kennels, the pee pads, etc. Of course, let's not forget the laundry! For little babies, they sure can go through towels and blankets.
The above numbers only apply to the healthy babies. Often, they are in very poor condition when they arrive. They often require extra fluids under the skin. If they are too weak to eat on their own, they require tube feeding and possible medications to help them regain their health just like Bali and the tropical kittens. The fluids, syringes, needles, feeding tubes, and vet care/medications all add to the cost of raising these precious babies.
CROUTON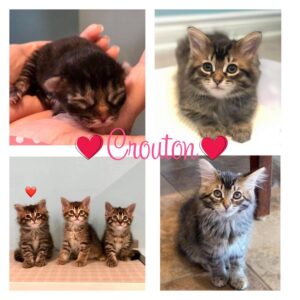 This little doll is Crouton. Crouton has been in the rescue her entire life. As a wee kitten her foster mom realized that she was "leaking" and not making it to the litter box. When she was given antibiotics and the condition corrected itself but after only a few days off the meds, it would start again. This went on for a few months and we knew she couldn't stay on antibiotics for the rest of her life so the hunt was on to find out why this was happening.
Crouton has seen may vets and specialists and none could figure out why she was leaking so the decision was made at that point for her to be seen by a specialist at the Ontario Vet College in Guelph last fall.
She went for an ultrasound at the OVC but was too small for them to do cystoscopy at that time. Instead, she was given meds to help with her muscle tone and was told to follow up after she had gone through her first heat.
Crouton is now bigger and has been booked for her spay and exploratory cystoscopy in July 2021. At this time they hope to find the root of the problem and if we're lucky they can also correct it internally at the same time as the spay.
As you can imagine the cost of all these tests and specialists are not cheap and this little darling has cost the rescue over $6000. 
HOPE & FAITH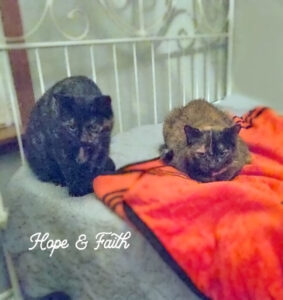 Meet Hope and Faith. They are extremely friendly, 11 year old bonded sisters.
Hope & Faith were surrendered to a vet to be euthanized because they were peeing outside of the litterbox. Without any testing done, no one knew if there was a medical reason for their behaviour. Thankfully the vet took them on and looked for a rescue to help them.
Little was known about them when they came into care so they were taken to our vet, where both girls received a full check-up and a battery of tests were done. One girl had a bad UTI and both sadly, are in kidney failure. Kidney failure cannot be reversed, only managed, so these two will need sub-q fluids twice a week to help do the work their kidneys are struggling to do alone.
Hope & Faith are now settled into a foster home, where they will continue to receive all the TLC they deserve as they will require ongoing medical care and prescription renal food. They are unlikely to be adopted and will need a long-term foster home where these sweet girls can live the rest of their lives with a family that will love and care for them unconditionally.